JM lands podium finish in sports car debut at Spa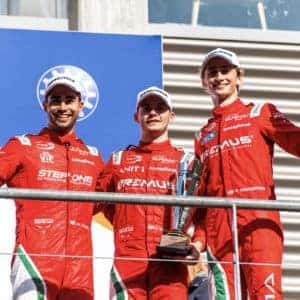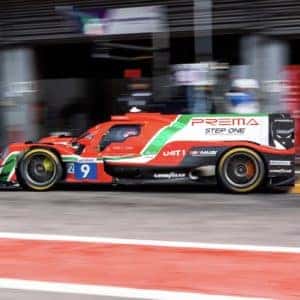 Step One Automotive Group athlete Juan Manuel Correa took home a podium at Circuit de Spa-Francorchamps in his European Le Mans Series debut.
The Prema Racing driver finished third in the four-hour race in his car shared with Ferdinand Habsburg and Louis Delétraz.
His #9 Oreca LMP2 started eighth after a challenging qualifying session, with Habsburg behind the wheel for the start of the race.
He progressed into fourth in the race's opening stages, then moved into third before light contact dropped him back into fourth place.
With 2 hours and 40 minutes to go, he handed it over to JM. The American-Ecuadorean delivered a very consistent stint throughout his first race run in sportscars.
For much of his stint, JM stayed around eight seconds behind the #31 TDS Racing x Vaillante entry.
Towards the end of his run, he went three-wide with the #65 Panis Racing and the #43 Inter Europol Competition entries on the run down the Kemmel Straight, over a battle for third,
emerging in the middle of the trio.
He maintained his position in fourth place before he handed over to Louis Delétraz with an hour and 20 minutes to go to successfully conclude his sports car debut.
After taking the car from JM, Delétraz started to close in on the podium places.
With half an hour remaining, the Panis entry driven by Nicolas Jamin, who was battling Delétraz, had to pit with a radio issue.
This allowed Delétraz into the top three, closing in on the second-placed #43 Inter Europol Competition entry driven by Pietro Fittipaldi.
The pair battled until the race's final moments, but Delétraz could not take the position, coming up short by just over a second.
Either way, JM, and Prema finished the race in third place to secure a podium finish.
"I'm extremely happy with my first endurance race," said JM. "I learned a lot this weekend, and while it was a learning experience, I really enjoyed it."
"Massive thanks to the team, especially to Ferdi and Louis, who helped me a lot."
"Now I'm just looking forward to Portimão, where hopefully we can take the championship."
"For now, I will enjoy a nice trophy. Thank you!"
With this result, JM has helped Habsburg, Delétraz, and Prema close in on securing both the drivers' and teams' titles in the finale in Portugal.