Puncture impacts Juan Manuel Correa's victory hopes in Belgium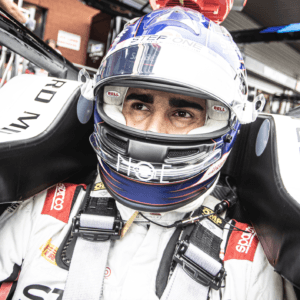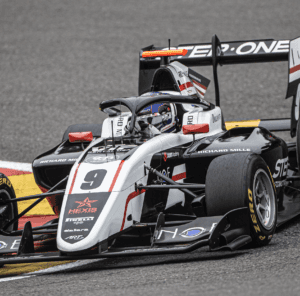 Step One Automotive Group athlete, Juan Manuel Correa, endured a difficult weekend in the FIA Formula 3 Championship's return to the Circuit de Spa-Francorchamps.
The 23-year-old was cruelly removed from the battle for victory following a puncture in Saturday's Sprint and narrowly missed out on points in an incident-filled Feature Race on Sunday.
JM started the reverse grid Sprint from second after initially qualifying 11th and secured a strong getaway to maintain his position off the line.
By settling in Zak O'Sullivan's slipstream, JM surged to the front of the field and overtook the polesitter around the outside of Turn Five to take the lead.
Unfortunately, light contact between the pair caused JM's right-rear tire to puncture and forced him to pit for repairs at the end of lap one.
After rejoining the race in 27th, a Safety Car following an accident for Christian Mansell allowed JM to close in on the field ahead, lending an opportunity to salvage a difficult race.
Despite nursing extensive damage on his ART Grand Prix car, he battled forward and gained nine positions to take 18th at the chequered flag.
Seeking redemption, the American-Ecuadorian racer secured a strong start in Sunday's Feature Race to rise to the top 10, although a wide moment in Turn Five relegated him to 13th.
Before he could set out on his recovery, however, a Safety Car – caused by a multi-car crash in the final corner – paused all proceedings.
JM was on the verge of returning to the top 10 when the race was resumed on lap five, but a second Safety Car after the restart again delayed green flag running.
The race was finally resumed on lap 10 of 18, and despite remaining in a closely contested fight, JM was unable to make further progress and finished 15th.
"A very difficult weekend here at Spa," he said. "On Saturday, I started second and then got hit from behind in Turn Five as I took the lead.
"I picked up a puncture, so ended up going all the way back to 27th and then finished the race in 18th. I think a podium, and maybe even a win, was clearly possible.
"In the Feature Race, we lacked a lot of pace and I think we have a lot of homework to do for the next race. Fortunately, Zandvoort is this weekend, so we can bounce back quickly and try again."
JM holds 13th in Formula 3'S Drivers' Championship with 30 points and will return to action on 3-4 September in the Netherlands.