Step One Automotive Group Awarded Two BEST IN Pensacola Titles for 2021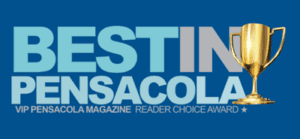 Wednesday, July 7th our team spent the evening enjoying refreshments, light bites, and a good time networking at Cadillac Pensacola while the winners for the 2021 BEST IN Pensacola were awarded. Step One Automotive Group happily accepted two "BEST IN Pensacola" awards at the VIP Pensacola Magazine reveal party: BEST IN Automobile Dealer – New and BEST IN Luxury Automobile Sales at Cadillac Pensacola.
What makes winning an award from VIP Pensacola so special? The community chooses the winners! In a two phase ballot, local businesses are nominated for their respective categories then narrowed down and selected during the online voting process. You can find Step One Automotive Group in the VIP Pensacola Magazine July 2021 issue listed as the Reader's Choice for our respective categories. Our dealerships will also be sporting the BEST IN Pensacola plaque for a full year. 
What makes our dealerships stand out from the competition? Our connection to the community. Many of our team members are involved in clubs, organizations, and nonprofits to help better our community. When you see the members who make up Step One Automotive Group, you see PTA members, board members, coaches, and everything in between. When you choose to purchase a vehicle from Step One you're really choosing to purchase from your friends and neighbors. Our team members go above and beyond to make sure your experience is over satisfactory from the moment you walk through the door to the moment you drive off in your new set of wheels.