United Way COVID Hero Awarded to Step One Automotive Group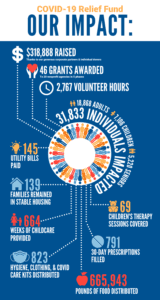 2020 was undeniably a year of uncertainty. The schools closed down, local businesses started cutting hours, and many community members needed help in providing for their families. United Way Emerald Coast and their sponsors wasted no time in providing help to the community. Since March 2020, individuals and families across the region who were financially impacted by COVID-19 have turned to United Way Emerald Coast and their partners to provide them with critical services and basic needs like food, stable housing, and medical care. 
A total of $318,888 was distributed to 20 local nonprofits providing rent, utilities, and mortgage assistance; emergency food and shelter; healthcare; and childcare. Step One Automotive Group was one of the corporate partners who contributed to the COVID-19 Relief Fund. Step One Automotive Group was awarded as a United Way Covid Hero due to their donation and distribution of 12,000 pounds of food during the food drives held throughout the year.
United Way Emerald Coast's COVID-19 Relief Team includes: Gulf Power, Beach Bank, Wind Creek Hospitality, Eglin Federal Credit Union, United Way Worldwide, Florida Blue, Publix, Wells Fargo, Hancock Whitney, Beast Code, SunTrust/Truist, Whole Foods Markets, the White-Wilson Community Foundation, Humana, Step One Automotive Group, and more than 40 individual donors.
Step One Automotive Group is an American company based in Florida that was built on a singular dedication to empowering lives through smarter and easier ways of accessing mobility.
Step One Automotive Group owns 18 dealerships in Florida and Georgia, representing 16 brands including Chrysler, Dodge Jeep, Ram Fiat, Volkswagen, Subaru, Kia, Hyundai, Genesis, Ford, Buick, GMC, Cadillac, Alfa Romeo and Maserati. Please visit https://www.steponeautomotive.com for more information.